Your operations are dynamic, ever-evolving, and vast. No matter the location, CRC has you covered.
Time is often not on your side, and you need to act quickly.  We understand. CRC's lean management guides the execution of our contingency logistics services.  We'll promptly analyze your requirements, enable critical decision-making in order to secure resources, implement effective initiatives, and get results in the most efficient, cost-effective way possible. We deliver contingency logistics services including life support and camp services, and fuel and aviation support services on-time and on budget. Every time.
Life Support and Camp Services
CRC provides holistic camp and life support services including camp construction, Operations & Maintenance (O&M), and complete life support to meet client needs around the globe. In support of efficient camp operations, CRC establishes project-specific supply chains to support food services, O&M, community engagement, security operations, cleaning services, vehicle fleet, and the IT and communication suite.

Non-Standard and Contingency Logistics
We recognize the numerous challenges and risks involved with
procurement and the movement of people and goods in austere
environment and contingency operations. Our methods and experience mitigate performance risk, improve efficiency, and alleviate client concerns. CRC's proven record of quick responses, rapid solution development, and efficient movement control assure our solutions meet the individual needs and requirements of our clients. Our team's capacity and capability to execute logistics solutions be it by land, sea or air, in locations around the globe, is unrivaled.
Fuel and Aviation Support Services
CRC delivers up to 1 million liters of ATA-certified Jet A1 fuel supply monthly to support our clients across Africa. CRC ensures a robust regional fuel supply in support of USG assets across the region through a team of certified fuel experts. This includes providing DOD-approved, laboratory-certified aviation fuels managed by a trusted network of certified fuel technicians who help navigate the physical and regulatory challenges of working in Africa while providing fuel logistics and refueling technical support.
"HOW WE'RE DIFFERENT"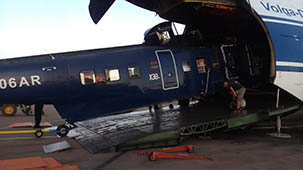 EXPERTISE
CRC offers global contingency logistics & sustainment services in over 54 countries. CRC has built and sustained remote man camps in 7 countries including construction, logistics supply chain, fuel services, life support, facility maintenance, security, and food services.
CRC delivered over 1 million liters of ATA-certified Jet A1 fuel to support our clients across Africa.
We delivered 3,206,500 lbs of cargo over 6,225 miles, across 9 countries in sub-Saharan Africa in 2019, providing logistics support for 16 military and UN operations.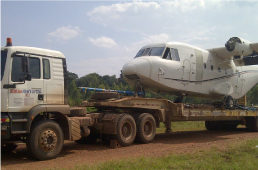 AGILITY
When a helicopter crashed in the Central African Republic, CRC engineers developed a solution to service the helicopter and change a two-ton transmission in an isolated jungle area with no road access.
The DOD notified a client of a need for 99 barrels of fuel to be delivered to a remote site in Africa. Far exceeding normal expectations, CRC delivered the fuel within 24 hours. Our quick reaction and ability to deliver—even in short timeframes—has enabled us to rapidly expand our fuel business.
CRC designed a camp in an austere location which required extensive civil engineering work and had the camp mobilized and fully operational within 14 days of Notice to Proceed from the customer.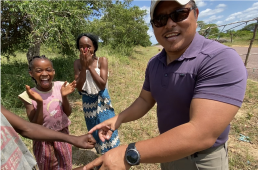 DILIGENCE
CRC offers a trusted global supply chain of vendors able to avoid costly errors and provide goods and equipment on time. We have never overrun a cost reimbursable line-item.
For example, in 2019, CRC managed the construction of a temporary student dining facility for University of Nevada, Reno (UNR) after a catastrophic explosion demolished the existing building. Our financial assets allowed us to procure the necessary equipment, stay on budget, and open on time. CRC built "The Den" in a compressed timeline of two months.